Message
Creating Water-Use Spaces for Entire Individual Households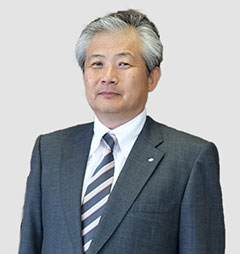 Since KVK was established, "first and foremost we are always keeping the consumer in mind, producing more convenient and comfortable metal kitchen and bath fixtures and providing attractive and environmentally friendly water-use spaces, thereby enriching people's lives."
Based on this principle, in order to give something back to customers, partners, shareholders, investors and the community for the trust and confidence they have shown in us, and to realize our corporate values, we strive to become the leading enterprise in the kitchen and bath fixture industry.

With the economic outlook uncertain, a declining birthrate, an aging population and the threat of global warming, the business environment is undergoing tremendous changes. The market for building materials is no different. A society of mass production and mass consumption has already been transformed into a society of more constrained and rational consumption. Now, everyone is looking for product quality and durability, energy savings and environmental conservation, as well as convenience and comfort.

In this type of environment, as a specialist manufacturer of metal kitchen and bath fixtures, we need to identify and utilize our extensive experience and potential in the industry. By "taking on challenges," "responding quickly" and "covering all aspects," we are committed to building a new framework for this new era.

Regardless of whether they are in the wall or underground pipes, or are water outlets, KVK will continue to create and develop integrated residential water-use spaces as well as disaster prevention facilities. We are ready to respond to new challenges and become the industry leader.
Masayuki Suematsu
President and Representative Director